What plays an important role in giving high level of protection to the foundation and landscaping of your home? Yes, they are none other than gutters. The moment gutters start failing in their operations, you need to take immediate step. In such a situation, availing of gutter replacement services by highly experienced professionals will be a great step.
Want to know the way it will benefit your property? We have discussed below some of the prominent benefits of hiring gutter replacement professionals.
Gutter Replacement by Professionals Prevents Flooding on Basement: How?
If gutter replacement is not done at the right point of time, then it may end up with causing a high-level of damage to other areas of your home. The moment the rate of problems starts accumulating; there are only two variable options left:
As in some cases repairing does not seem to be a wise choice, replacement serves to be the best alternate. Do you have a particular portion immersed below the ground? If yes, then there are higher chances of water getting seeped through the windows and cracks in the walls.
This may lead to a nasty surprise post a large storm. In order to prevent such mishaps, it is advisable to opt for gutter replacement by experienced professionals. A gutter system in a good working condition will help in keeping water at bay from the basement of windows. Also, it will help in keeping your home above the water level.
How Gutter Replacement Helps in Keeping Your Home In A Top-notch State?
It is a fact that water running straight off the roof may result in the splashing of debris and dirt on the sidings of your home. It also results in the dripping down of the water all around doorways. Slowly, the walls of your house may get adversely affected by constant soaking of water during rainstorm.
It is the result of malfunctioning of the gutter system. Then the importance of gutter replacement by the hands of experienced professionals comes to the limelight. Gutters in good working conditions will help in directing water towards a downspout, thus preventing the growth of mould and mildew on the siding. Finally, your entrance will be in a clean and clear state.
Does Gutter Replacement Help in Increasing the Curb Appeal of Home?
Gutters in dilapidated condition result in reflecting a bad impression about the homeowner. Also, it adversely affects the marketability of your house. At the same time, it may poorly result in decreasing the overall resale value of your property.
If you are planning to sell your house and ask for a desirable resale price, then better get gutter replacement done by the hands of highly experienced professionals. A functional gutter will not only have a better appearance, but will also attract potential buyers. Also, they will prevent further damage to the property.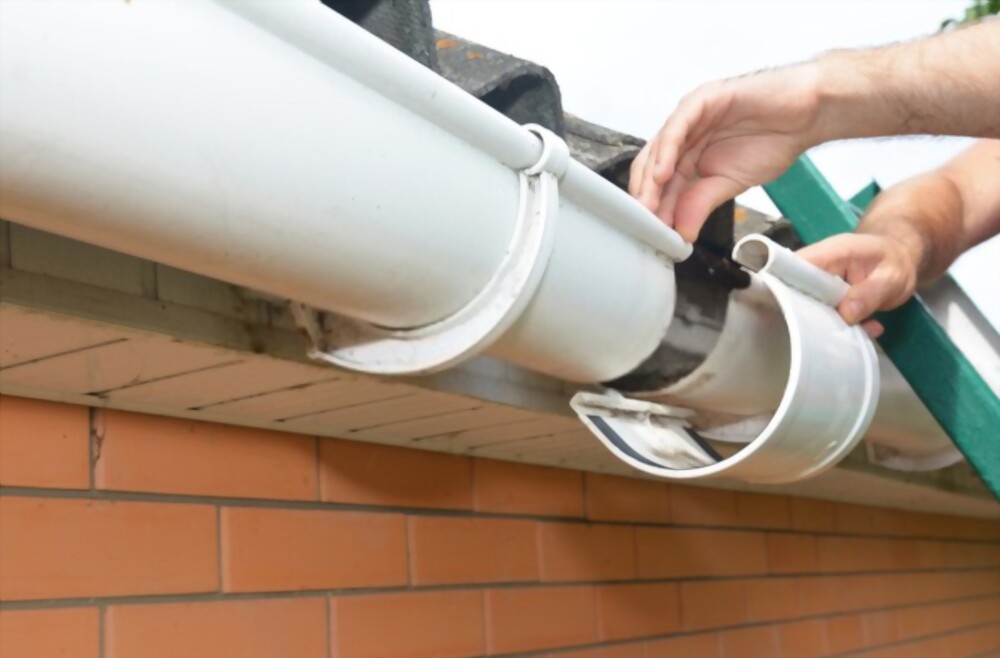 Having a house in a good and well-maintained condition will make you feel proud to be an owner of such a property. Also, you will get the confidence to ask for a desirable resale value of the property which is another added advantage
Gutter Replacements Complement Roof Installation
Yes, professional gutter replacement contributes a lot in ensuring the best outcome in-terms of roof installation. If you are planning to include a new roof, then better replace the gutter simultaneously. The roofers will be in a favourable position to discharge their duties at the best.
Instead of gutters, every type of installation can be repaired if not installed properly. Such a step helps in making the installation process faster. Blending of gutter into the roof will take place in the right manner. In fact, selecting the right type of gutter and roof having matching colors will help in changing the look of your home for the best outcome.
Lastly, getting gutter replacement at the right time will help in directing water away from the foundation of the home. It will prevent rotting and breaking down of the foundation of the building, thus keeping costly repairs at bay.
In Conclusion
Professional gutter replacement will fetch a wide range of benefits to the property. The moment you suspect any malfunctioning like leaking or any type of damage to your gutter, do not think twice before giving a call to professionals for getting your gutters replaced.